Win $10,000~ for your next holiday!


Every load of $100 NZD in foreign currency, is a chance to win $10,000 spending money.
Ten runner up prizes of  $1,000 to be won. Load your card before 31st July 2017 for your chance to win!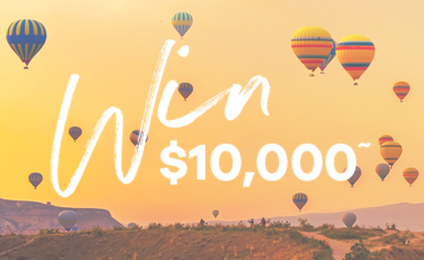 ---
If you're new to Cash Passport, getting a new card is easy!
1. Find your closest stockist below
2. Load your new Cash Passport with a minimum $100 NZD load in foreign currency.
3. You will automatically be entered into the draw to win! Good luck!
Top 5 reasons why Cash Passport is the smarter way to travel
1. Load up to 9 currencies on one card: AUD, EUR, USD, GBP, NZD, JPY, CAD, HKD, SGD
2. Lock in your exchange rates ahead of time* and know exactly how much you have to spend before you travel
3. Use your Cash Passport at millions of shops, restaurants, ATMs and online, anywhere MasterCard is accepted
4. 2 cards are issued so should you lose your primary card, you still have a secondary card which will allow you to access your money, when you need it
5. Cards are not linked to your personal bank account